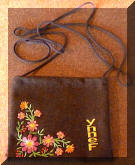 Product Code:
H7 Selfoonskouersakkies Design Code:
BJ5-Blomme (a)

Description: The ideal bag for a cell phone, notebook and pen is the Shoulder Cell Phone Bag from Cool Creations. This cool product is a new favourite at Cool Creations, because it works so well for your cell phone and pen. It has 2 partitions, one for a cell phone and one for a pen. A small notebook can also fit in alongside the cell phone. It is easy to hang over the shoulder, because the cord is 1.5 m and you have a pen, notebook and cell phone all together and at hand. These little bags are supplied in cotton twirl or denim textile decorated with an artistic embroidery design. Choose a colourful picture from Cool Creations' embroidery designs.
1 Free embroidery design per item is included and a name can be added at no extra cost.
Design decorative options.
Dimensions: 14 cm wide x 16 cm high
Code: H7 Selfoonskouersakkies